EKCX League Round 5 – Betteshanger Country Park 16/01/2022
Betteshanger always hosts the finale of the EKCX league. However this year the course was unusually dry and fast in contrast to the usual mud fest. Some nice tweaks to this year's course including the new ditch crossing/amphitheatre/drop off section.
U10's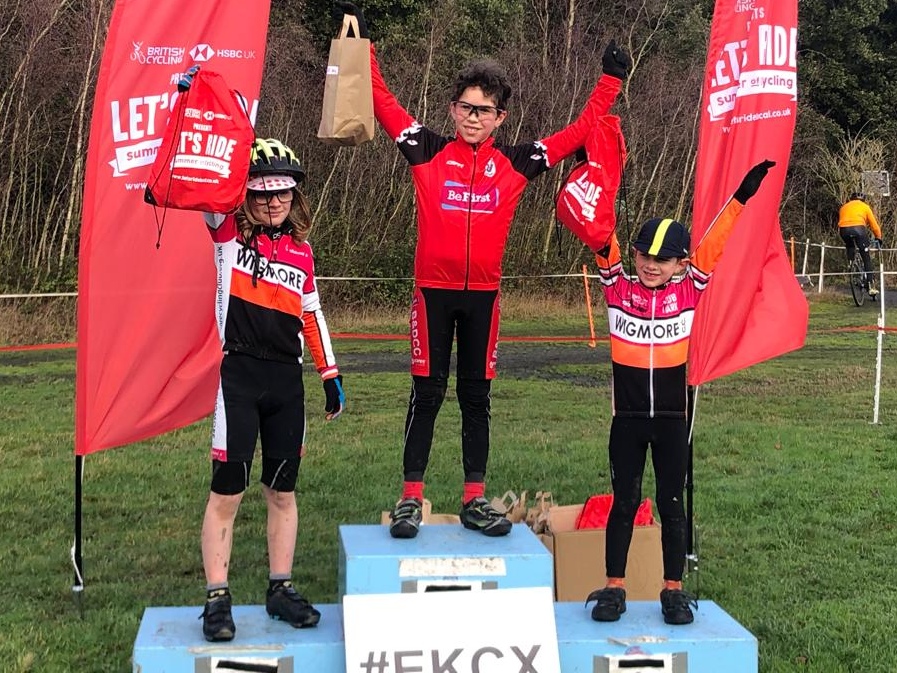 Henry Twynam continued his habit of finishing on the podium finishing in 2nd spot.
Miles Anderson had a good old fashioned ding dong with Joe. It was Joe who won the sprint to the line but Miles took 3rd spot in the U10's.
Next came a wave of Orange and Pink jerseys split by less than 1 minute 40 seconds. Ewan Delaney in 6th, Jude Tippins in 7th, Ben Bailey in 8th and Oliver Young in 9th.
Henry and Miles post-race recovery ritual involved spending a couple of hours doing rolly-pollies down the muddy banks. This must work judging by their results and maybe the adults could learn a thing or two.
U12's
Rowan Murphy was again on the podium taking 2nd after outsprinting his rival in 3rd by just 2 seconds.
Joe Cass picked up place 8th and had daylight between him and the rider behind.
U14's
Sammy Bassett finished strong in 7th place.
V40's
Luke Anderson had an electric start from the second row despite a couple of riders getting a slow start ahead, Luke found himself inside the top 10 at the crucial first corner. This position was maintained for a couple laps. A few errors during lap 3 and managing a back injury meant survival mode was activated and Luke finished in a respectable 18th in a highly competitive V40 field.
Jon Bassett had a very close finish with six riders crossing the line within a matter of 8 seconds. Jon finished in 31st place.
Our Chairman Kevin Ford dusted off his cross bike for the first time this winter for race duties and finished in 40th place.
Seniors
Jamie Harris finished his season off with 21st place in a race that ended up being 1hr 10mins (ouch!).
Cameron Carthew put a solid shift in for 40 minutes but pulled up due to discomfort having come off his road bike the day before.
Up Next… CX Team Champs
Although the EKCX League has now concluded there are still some rounds of the London League left.
Also on the 13th of Feb the CX Team Champs are hosted by Crawley Wheelers at the South of England Show Ground in Ardingly.
This is a team event where teams of 3 or 4 ride the same race and the best 3 positions pick up points for the team. These races have very large fields and riders are set off in 4 waves.
For more info see the below:
http://www.londonxleague.co.uk/team-champs/?fbclid=IwAR1_OCAVkRfGeRrtF-sGXzfhfrewtzgF-gl8TfJRVl2s0G8fmjIIrEc9NYQ
Entry is via BC here:
https://www.britishcycling.org.uk/events/details/256315/Challenge-Tires-London-and-South-East-CX-League—Team-Champs?fbclid=IwAR0AnyTQOsjWA4IwYR6cxrUgNpIrqktFji22eEm_RbIEvosORfQcmPMjEhU
Photo Credits
Kevin Ford, Charlotte Wilkin, Luke Anderson
Luke has also put together these 2 very nice videos of the U10/12's and V40 races: