East Kent Cyclocross League – Round 3 – AlexPatonGP @ Astor College 13/11/2022
A few years ago saw the introduction of this course. Now very much a staple of the EKCX league and enjoyed by all. Challenging tarmac climb, sand pit, hurdles and of course, lots of off-camber. What's not to love?
Go-ride
Under 8's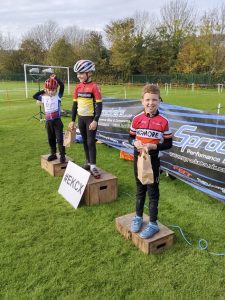 Luke Smeeton was worried about the big hill prior to the race. But that was all forgotten as Luke made his second trip to the podium this season finishing in 3rd place. After the race Luke felt he really earned his lemon Fanta and cheesy chips, which he enjoyed with club mate Miles.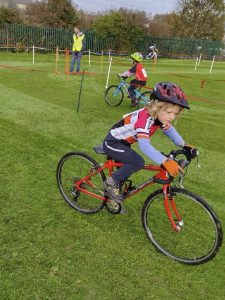 Miles Twynam finished 4th, just 5 seconds behind in a very close race.
Under 10's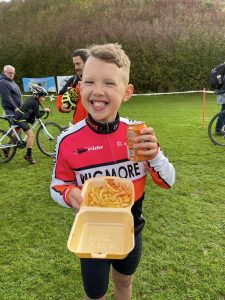 Riley Wastall also returned to the podium for the second time this year finishing in 2nd place. A nail-biting race where positions changed a number of times in the leading group. After 5 intense laps, coming out of the technical section for the final time Riley was on the wheel of the lead rider winding up for a sprint finish but was pipped at the line into 2nd. A great results and Riley's second trip to the podium this year.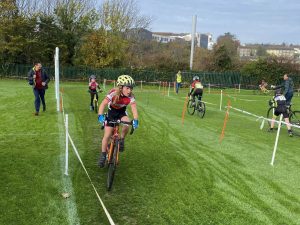 Under 12's
Henry Twynam raced well and finished in 7th.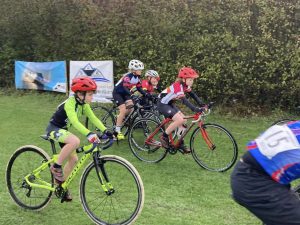 Jude Tippins said that round 3 was lots of fun and again made the top 10 finishing in 9th place.
Under 14's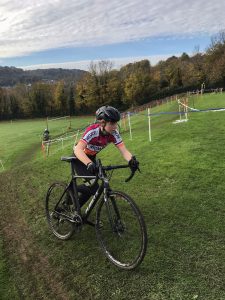 Sammy Bassett had a strong first race of the season and finished in 6th place. After the race Sammy said "It's nice to be racing again, got some work to do though!"
Adults
V50's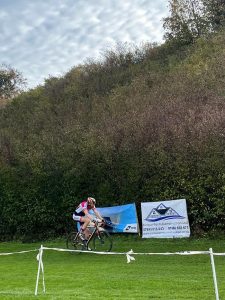 Dave Bishop raced well to 36th, on a course that was still slippery with a number of riders hitting the deck on the off camber sections.
Senior Men
Ed Everall had a good race and stayed upright for the duration finishing in 16th place.
Jamie Harris had a much better run out compared to round 2 which didn't quite click. The course started to dry out meaning most of the course was now ridable and riding fast! This is where he gained a few seconds each lap on other riders who were still opting to run a couple of the steep banks. Legs feeling good and lap times getting quicker if anything. Jamie finished in 18th place.
Photo Credit
Kirsty Wastall, Jonathan Smeeton, Angela Tippins, Stephen Twynam
See the full gallery here