East Kent Cyclocross League – Round 1 – Sandwich Tech – 11/09/2022
It doesn't seem that long ago that we were playing in the sand at the South of England Showground for the CX team champs at the end of the 21/22 season.
14 riders took the stage at round 1 of the East Kent Cyclo Cross league. Despite the storms and heavy rain the week prior, the dry summer meant the ground had dried by the Sunday and the course was riding very fast.
Go-ride
Under 8's
Luke Smeeton competed in his first competitive cyclocross race and was 3rd fastest under 8.
 Under 10's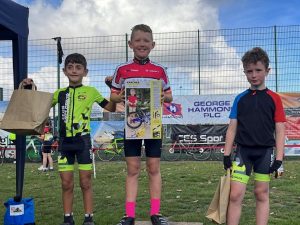 Riley Wastall carried on where he left off last year gaining podium finishes, except this time round he upgraded and for the first time took to the top step of the podium. A great start to what could be a great season for Riley. Furthermore, he was giving some of the under 12's are run for their money.
Riley: "I was very nervous and scared at the start of the race, but at the end I was really happy that I won it!"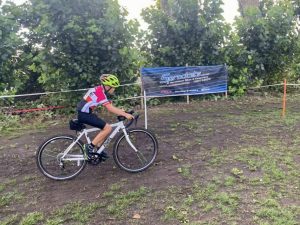 Oliver Young put in a strong ride in a competitive field to finish 7th.
Summer Cass continued her 100% podium record from last season finishing in 3rd.
Under 12's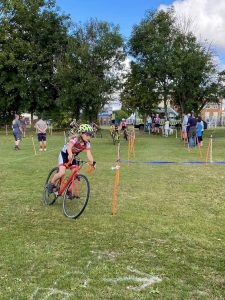 Henry Twynam stepped up to under 12's this year and just missed out on the podium finishing in 4th.
Jude Tippins who only competed in his first race in final round last year as a under 10 also steps up to under 12's and finished 7th
Joe Cass was just a few seconds behind in 8th Place.
Adults
V50's
Dave Bishop was gridded on the 5th row in a full 60 rider field in the v50's. Richard Masters took to the start line having not raced CX for over 10 years which meant a less favourable gridding on the back row. A glutton for punishment, Richards weapon of choice was a 15 year old, 26" wheeled mountain bike!
Dave had a reasonable start but was hampered on the first lap with a slight mechanical issue. Richard got to work picking off riders and caught up with Dave on the 2nd lap where they stayed together for a lap or so before Richard started to pull away and finishing in 37th place. Dave had a close battle in the final with another rider and was just pipped at the line into  42nd place.
V40's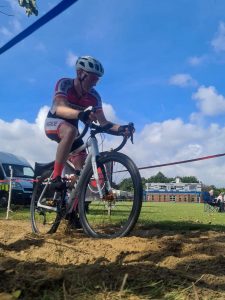 Luke Anderson started the season with a nice top 10 coming home in 8th place. Luke got a great start from the second row and stuck it out with the front runners for the first lap before settling in with a group with 2 other riders. A couple of small errors didn't faze Luke who then needed to put in a attack towards the end of the race to shake off the 9th placed rider and remaining chasers.
Duncan Tippins finished 31st in packed v40 field.
Junior Men
Having not raced last season, Dylan Harman was in at the deep end stepping up to the junior men's category. Putting in a good first outing back, to blow the cob webs off into 8th place.
Senior Men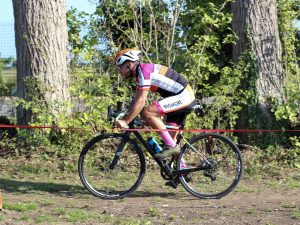 Jamie Harris was gridded on the 2nd row and got a good start and briefly hung on to the fast boys for half a lap. Comfortably leading a group of 4 for the first few laps but then after around 25mins a silly mistake whilst in the wheels meant a pedal strike and going over the bars. As a result losing a few seconds and due to the speed the course was riding could not get back up to the group.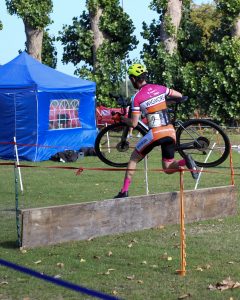 Ed Everall was gridded at the back upon returning to CX racing. Ed had a challenging first lap which resulted in a very early pit stop due to loose handle bars that had worked loose in the warm up. This cost around a minute and a half and meant lap 2 was started way off they back of the field. Never the less Ed found his rhythm and was flying once he got going working through the back markers and catching up to Jamie with a couple of laps to go. A brief exchange of tactics and Ed was pushing on to a rider not far up the road who he went past on the final lap to finish in 18th place. Meanwhile Jamie edged out another rider involving a final lap tussle with multiple attacks back and forth to finish 20th.
Thank you for everybody's input and comments for the report.
Round 2 is being held at a new venue in Dover on 23/10/22.
Keep updated by following the "East Kent Cyclo Cross" Facebook page.
Photo Credit
Kirsty Wastall, Louise Young, Stephen Twynam, Kat Anderson, Charlotte Wilkin.
See the full gallery here