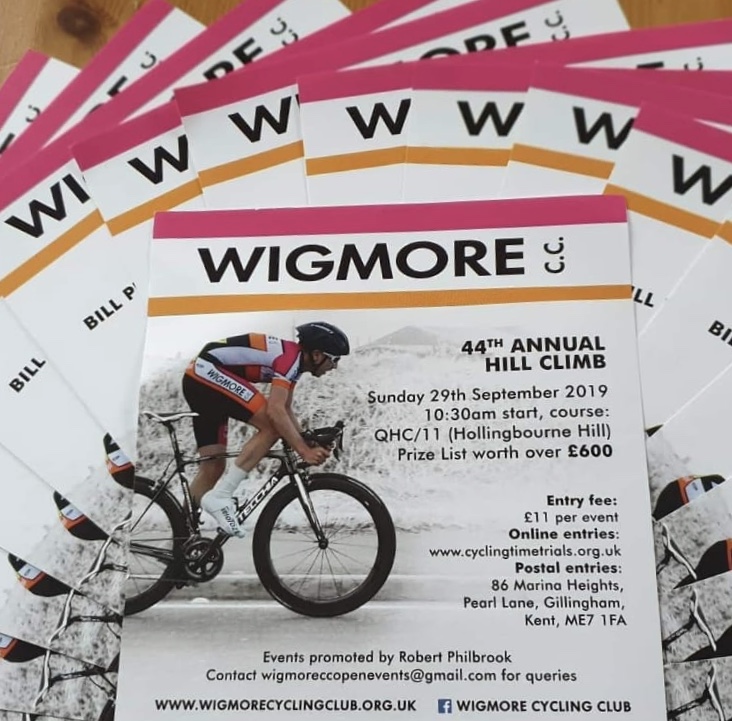 On
Sunday 29th September
the
WigmoreCC
will once again be hosting our annual hill climb at Hollingbourne Hill. Our event is one of the most eagerly anticipated events on the Kent cycling calendar with good attendance from riders across the district who come to both race and spectate. If you would like to contribute to the ongoing success of our event, there are several ways you can do so:
Ride it – If you fancy joining other Wigmore riders that have already entered, there is still time as the entry will remain open until Friday 20th September. the easiest way is online at cyclingtimetrials.org.uk or alternatively you can contact the organising team at wigmoreccopenevents@gmail.com who can steer you in the right direction for entry. First man off is 10:30am so it's not like it's ridiculously early either!
Marshal it – the event doesn't run itself and is a product of the effort that people put in to it. If you don't fancy riding it then your help will be invaluable in marshalling. We rotate marshals between the carpark ensuring rider's and spectator's safety, and the hill ensuring that marshals also get to see some of the racing. We also need help setting up the gazebos and other supporting paraphernalia so we normally ask for help to start arriving from 8:30-9am. If this sounds like it may be of interest please contact Anthony Bee at anthonybee@btinternet.com
Support it – we are indebted to the Boyd family who let us use their farm at the top of Hollingbourne Hill each year which includes use of their water and electricity and generally while causing chaos – all for free. We normally donate a couple of bottles of wine to the family as a small token of our appreciation. If neither of the above options sounds appealing but you're planning for dry October and want to donate a bottle of wine you will certainly be helping us out. Please contact the event team at wigmoreccopenevents@gmail.com if you are able to help.
Thanks in advance, and we look forward to seeing you there!