East Kent Cyclocross League – Round 3 – Alex Paton GP, Astor College –  14/11/2021
Firstly apologies for the delay in getting the Round 3 report out.
Round 3 of the East Kent CX league takes its name from GCN presenter Alex Paton held and is held at Astor College in Dover. This course is quite literally a ramp up in terms of difficulty compared to the almost flat rounds 1 and 2.
Sharp, punchy loose tarmac climb, more off camber twists than you could shake a stick at and of course the obligatory sand pit and hurdles.
Go-Ride
I've said it twice before… I'll say it for the 3rd time… and fully anticipate similar sentiments for Rounds 4 and 5. Again Go-Ride did an inspired job of attending Round 3.
Under 10s
Consistency was king for Riley Wastall picking up another podium in the form of 2nd place.
Ben Bailey improved upon his 10th place finish in Round 2 picking up 4th place this time around.
If you look up the phrase "Back with a vengeance!!!!!" you will be presented with this picture: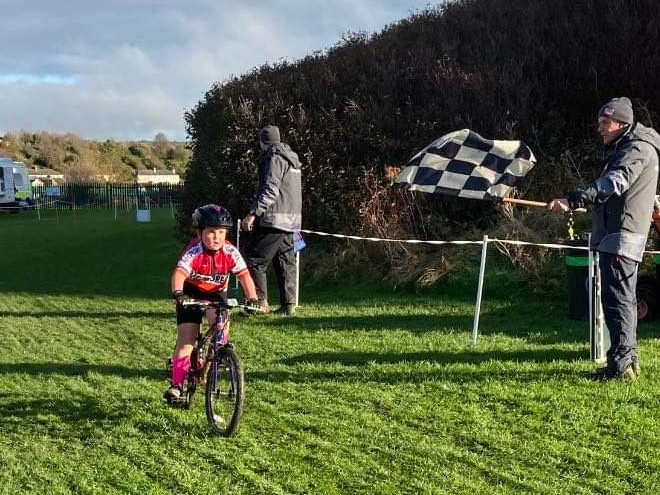 Summer Cass had a  bit of a crash in her first CX race at Round 2 but was back for more and took a very impressive 3rd place. Woosh!
Under 12s
Rowan Murphy was on the podium yet again keeping the points rolling in with 3rd place.
Also in the under 12's Joe Cass finished in the top ten with an 8th placed finish.
Under 14s
In the highly competitive under 14's Sammy Bassett outsprinted a rival by just one second to take the chequered flag in 5th place.
Vets
V40s
Luke Anderson improved on his 18th place finish in Round 2 to finish in a strong 12th place.  In the hunt for a top 10 finish next time out surely.
Having missed Round 2 through injury Chris Murphy finished well in 18th place.
Legend has it that Jon Bassett races cross… and now we have the evidence with a 23rd place finish!
V50s
The V50's always looking to "entertain" took two attempts to start the race as the first time round a mass crash on the sprint to the first corner resulted in multiple riders on the deck needing attention from the St Johns Ambulance, happy to report no serious injuries.
Dave Bishop kept himself out of trouble and was ready to go for the re-start. Finishing in 41st place.
Elites/Seniors
The Senior's race had an all-star line including 5 National Cyclocross Champion Ian Field, Tekkerz CC duo Neil Phillips and Alec Briggs plus the usual big hitters of the EKCX league.
In contrast, Jamie Harris was back for his first ride since having Covid and had set low expectations just to complete the 60-minute race and probably in last place. However, he found himself with five other riders and was drawn into actually racing!
Just the one crash saved for the last lap pushing too hard on the off-camber switchbacks and finishing in 17th place.
Round 4
Round 4 is at Lydden Hill on the 19th December. All the details and entry application can be found here:
https://www.britishcycling.org.uk/events/?series_id=516
For more details keep an eye on the "East Kent   Cyclo Cross" Facebook page.
Photo credits
Kirsty Wastall, Danielle Mallaghan, Chris Murphy