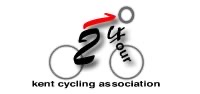 This year's Kent Cycling Association Reliability Trial takes place on Sunday 20th October 2019.  If you would like to ride the event, please reply to this email before Saturday 5th October.
This is an event we are usually very well represented at, with a good group of riders to tackle the roads around Ashford and Mid Kent.  As a club, we usually ride the 100km (62miles), starting at Potters Corner nr. Ashford.  For an idea of the route, take a look at it below and here: LINK.  Start time is usually sometime between 7 and 8:30am.
Entry is open to all adult members, but please let me know you wish to ride as part of the team by Sat 5th Oct.  Entry is just £3.50, to be paid in advance.  This can be cheque in the post, by bank transfer, or given to me at the Hill Climb Event on Sunday.