East Kent Cyclocross League – Round 4 – Lydden Hill –  18/12/2022
Truly Nordic conditions were to be enjoyed for round 4 of the East Kent CX league at Lydden Hill. Shout out to the organisers who did a great job completely re working the course allowing the event to go ahead. Also, chapeau to all the volunteers who stood outside in those conditions all day just so that we could mess about on our bikes.
Go-ride
Under 8's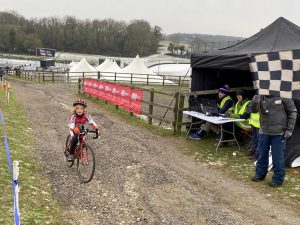 Miles Twynam had a pretty tough race with the course starting on a significant hill, all the more difficult with little legs. But showing us how consistency is key throughout the cross season picking up another well-deserved 4th place.
Under 10's
Riley Wastall did well in tough conditions to finish in 5th place, after the race Riley said "It was a good race but really cold. It was worth it for the chocolate at the end."
Under 12's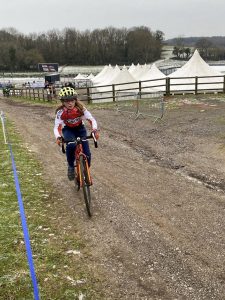 Henry Twynam saw a return to form putting to use his BMX skills on a changed format course especially on the technical sections. Towards the end of the race Henry had a fairly big crash but was resilient and got back up to finish the race and, in doing so, getting on to the podium finishing in 3rd place. Henry said "It was the best race of the season so far!"
Joe Cass improved on his last display in Round 3, finishing strongly in 5th place.
Jude Tippins also improved upon previous results and finished in 6th place on what he described as a really hard course.
Adults
V40's
The spectators were in fine form for the vets race, keeping warm by making a load of racket to encouraging the riders.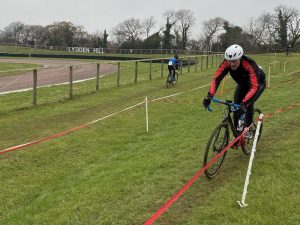 Duncan Tippins was back racing having missed the previous round and added to his points total for the season with a 21st place finish.
Senior Men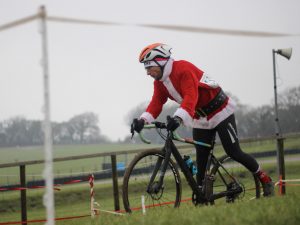 Jamie Harris struggled on the 2 main climbs each lap but enjoyed the full send descent from the top of the race track hairpin and also the technical sections back to the main part of the course including the running. Harnessing some Santa super powers and finished in an all-time best 11th place finish making the frost bite worthwhile!
Photo Credit
Kirsty Wastall, Angela Tippins, Stephen Twynam, Charlotte Wilkin,
See the full gallery here