East Kent Cyclocross League – Round 2 – Duke of York Military School 23/10/2022
A new course for 22/23 season and a belter it was. A challenging course made even more gnarly due to the weather. Earlier races saw torrential down pours make the course very greasy making the onslaught of off camber corners very tricky. The rain withdrew for the latter races but the course became quite cut up and as the mud dried it became claggy and heavy going.
Go-ride
Under 8's
Miles Twynam was out racing in his CX race of the season and finished well in 4th place.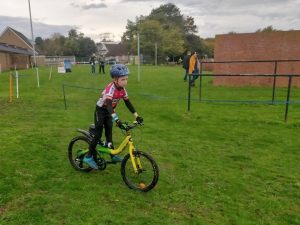 Luke Smeeton was back for more after his first CX race in round 1 last month. In round 2 Luke finished in 5th places which will do his points total for the season no harm!
Under 10's
Riley Wastall felt a little off the pace but still picked up some good league points with 4th place. After the race Riley said he really enjoyed the challenge of the off-camber sections.
Oliver Young had a good race and finished in 7th place.
Under 12's
Henry Twynam had a very strong race and took a trip to the podium taking 3rd place.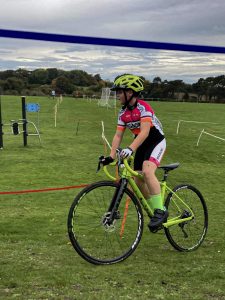 Joe Cass put in a big effort and had a good race. Joe was held up slightly on the first lap as there was a big crash into turn 1 but recovered well to finish in 6th place.
Not far behind Jude Tippins got into the top 10 and battled on to finish in 8th place.
Adults
Vet 50's
Dave Bishop's race started in the dry on the 7th row in around 42nd or a field of 50. starting with a hot start Dave made up around 15 positions into the first corner with some demon braking! Throughout the race a small hand full of riders came by. "Paddling" around the banks as the rain came down Dave held on well and finished in 33rd place and was happy to not be lapped by the winners.
Vet 40's
Steve Harman returned to CX action having missed round 1 and first race since 2020. Arriving at the course as the heavens opened and soaked the already damp course. Due to riders still being on course from the prior race the V40's and Juniors were not able to get a full sighting lap in so very much had to learn the course on the job.
A full field meant a crowded and technical start to the race which saw many riders going down in the conditions on the first lap. Steve settled into a rhythm having fun finding lines where the grip was on a slippery course. Steve was happy to not hit the deck which in his words "Is a rarity". Steve finished the race in 28th place.
Settling into the CX season nicely Duncan Tippins finished in 29th place.
Junior Men
Dylan Harman racing in the junior men's race with in the V40 race had to deal with the same torrential conditions on a very technical course with a full field. Having suffered a couple of slips and slides Dylan soldiered on to finish 5th.
Senior Men
The senior men all kept out of trouble going into the first corner. Although the rain had subsided the course was very tricky and meant a fair amount of running each lap. A few corners in and the course became crowded on an inconspicuous corner, both Wigmore riders making the early decision to dismount and run and in doing so making up a few positions before going through the finish line for the first time.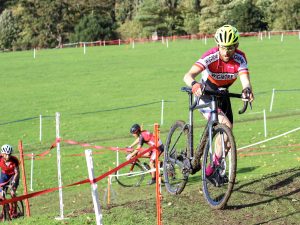 Ed Everall managed a strong ride and only hit the deck once in difficult conditions. Ed pushed on and despite an irritating mechanical issue he was able to finish in 15th place.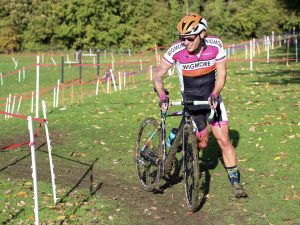 After a good first lap, lap 2/3 a few little mistakes crept in along with some frustration which led to poor lap times and the loss of a couple of positions for Jamie Harris. After mentally resetting lap 4 onwards began to flow and started to make time back up to the riders ahead. After going deep for half a lap to catch a rider, Jamie had to stop to clear mud by hand which jammed the rear wheel around the chain-stays. Pushing on to re catch the same rider again finally on the last lap and finishing in 18th place.
Thank you for everybody's input and comments for the report.
Round 3 is the Alex Paton GP in Dover on 13/11/22.
Keep updated by following the "East Kent Cyclocross" Facebook page.
Photo Credit
Charlotte Wilkin, Kirsty Wastall, Jonathan Smeeton, Angela Tippins, Danielle Mallaghan
See the full gallery here